Have a cat that won't stay off your counters? I do. I finally got fed up with it enough to do something about it: scare the crap out of him with a motion-detecting blender (while recording the results for my own amusement, of course).
Confused at what you're looking at? This is a repeating shot of security camera footage of my cat jumping on the counter - in search of a plant to munch on - and initiating my Blender Defender. Take a look at the following comic (Courtesy of Sarah) to get a better understanding :)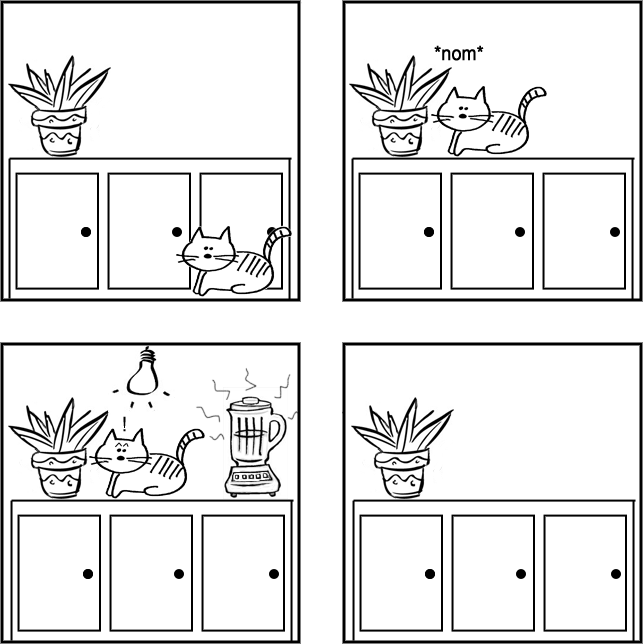 Videos
Sorry, but you're going to have to pretend you can hear an extremely loud blender while you watch these clips
The following recordings are the result of the Blender Defender being needed once again in January of 2011.. This time, however, we needed to keep one of the cats off of our bed. Why? Well, lets just say that she liked to go up there and... make... messes...
Instead of using the blender for this, we decided it would be better to use the vacuum cleaner, since it's louder and doesn't have to be close to the cats to get the message accross.
If you want to keep updated on when new videos of my cat are posted, make sure to subscribe to the RSS feed. All new videos that are added to this page will also put in the RSS feed.
Details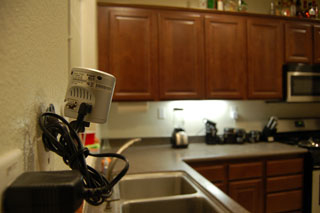 If you were to walk in my house, you may see something you dont normally see in a kitchen. On the wall, to the left of my sink is a webcam (network camera). It is plugged into the network jack and screwed into the wall plate cover, supporting itself. It doesnt get it the way, nor do we ever have to think about it. The camera is being monitored for motion by my computer upstairs in our office.
The camera itself is one of the cheapest network cameras out there, the DCS-900. It can be picked up for about $120 or so. There are a couple network cameras that are a little cheaper, but the D-Link one is pretty rugged and makes it easy to get into the raw feeds, something that cant be said for many other cameras.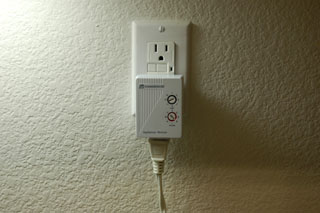 As you can see from the videos above, the blender and the strobe light are both controlled by an X10 unit. The unit is sent an on or off command from the computer running upstairs by means of an X10 Firecracker. The Firecracker is just a wireless X10 transmitter that plugs into your serial port. I wont get into explaining it much here, but one thing to note is that is happily co-exists with my CM11A unit.
The computer upstairs is running the 'motion' library for linux. As soon as it detects something moving on camera, it starts recording frames. While it is saving frames, it also initiates another Perl script I wrote that sends an X10 command to turn on the blender and strobe, wait 3 seconds, then turn them off. After the script is done detecting motion, it then splices all the JPG frames together using ffmpeg and saves the resulting movie as a SWF file, which you can see above. Finally, after it saves the movie, I have it set up to email me a link to the movie so I can see the results from where ever I'm at (remotely by using my phone).
Is this cruel?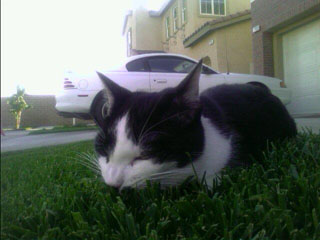 Of course not! To teach a cat not to do something, it has to get the idea that what it is doing is a bad thing. One way to do so is to sternly tell your cat 'NO' when it does something. The cat may learn that it is bad, but more often than not, the cat learns that it's not supposed to it when your around. This is not what you want. The best way to teach the cat not to get on a counter is to take yourself out of the picture. If the cat jumps up on the counter and is greeted with a scare, it will learn that the counter is not a very nice place to be. The cat is never harmed, but it's instincts tell is that this may be something to be feared. Just like a vaccuum. The cat doesn't like it at all, so it stays away.
Some will say that the cat is trying to eat the plant because he needs it for his digestion. In this case, it's just not true. Our cat doesn't simply eat our plants. He sees them as a toy. He plays with the stalks, digs them out, etc. We find leaves in the other rooms half the time. And, yes, he does get grass every once in a while.
Project Cost
The table below shows how much money would normally go into a project like this. This isn't to say that I've spent this much, as I already had everything lying around the place, but if somebody else were to start this project, this may be what they should expect to pay.
| | | |
| --- | --- | --- |
| Item | Notes | Price |
| Strobe Light | Bought from Spencer's | 20.00 |
| Blender | Housewarming present, woot. | 50.00 |
| X10 Firecracker | Check Ebay and Amazon if you're looking for one | 12.00 |
| X10 Appliance Module | You wouldnt want a Lamp Module for this. | 12.00 |
| Network Camera | D-Link DSC-900 | 120.00 |
| | | $214.00 |
Comments

Hits
1654301
Oh, and hi Jean!